Rudebits Dash 4 Cash
August 28 @ 09:00

-

August 29 @ 17:30
Rudebits Dash 4 Cash - 2wd booking in closes: 27/08/2021 22:00:00
Rudebits Dash 4 Cash - 4wd booking in closes: 27/08/2021 22:00:00
Rudebits Dash 4 Cash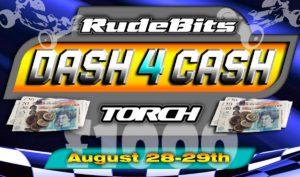 2 Day Event – Saturday 28th and Sunday 29th of August 2021
Prizes: Approx £1000 in cash prizes plus Raffle plus Trophies
Entries: Max 120 drivers – make sure you book in to secure your spot.
Entry fee: £20 per class – 2 classes £30
Camping: £10 per evening – water and toilets on site – must be pre-booked with organisers
Format: Best 2 from 5 to count – Practice, Seeding and 2 qualifiers on the Saturday
3 qualifiers and finals on the Sunday
All finals are 7 minutes
Some Twists and Shenanigans announced on the days.
This format allows someone to only race on the Sunday – Entry fee is the same
Schedule: Saturday 28th Practice @ 10.0am – Practice Seeding x2 @ 1.0pm – 2 rounds of Qualifying
Sat estimated finish 6.30pm
Sunday 29th 8.30am start – 3 rounds of Qualifying and 7 min Finals
5.30pm raffle and prize giving and photos
Location: TORCH, Swanmore College, New Road, Hampshire, SO32 2RB
Theories: Late start on Saturday so no need to have another night away, keeping costs down
Plenty of practice to familiarise yourselves with the track. New layout for the event
Seeding – surely the fairest way!
Spread over 2 days and only race Sunday still possible if one wishes
The usual social distancing and well covered National rules are in place and any changes of those rules
Massive field for pitting and or hard standings if weather not onside
Massive prize fund by RudeBits in conjunction with the hosting club TORCH
Raffle and Trophy Plaques
Booking in: Please visit www.torchracing.co.uk and secure your spot – first come first serve