If you are coming to a TORCH meeting and want the maximum time available to race then you can pre book for most events. If you have not already done so click here to register your details.
If you have already registered then click here to login
Once you have logged in you will now be able to view any events on the calendar and if there are tickets available you will be able to specify the number of entries that you require. Below is an example:-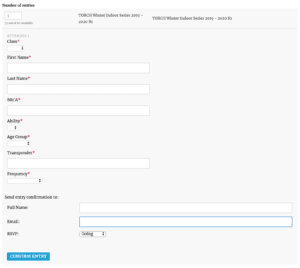 Any box with a red star is required. Just make sure all the details are correct all the way down the page and then click on the CONFIRM ENTRY button.
Now you can click here to view all entries to the event. On the day come to race control and pay the race fees, by doing this we will spend less time entering details onto the computer and arranging heats as we can do this prior to the day thus maximising time for what we all want, RACING!